Badge Messenger® is always with you. Whether that be for small communication necessities or time-pressing catastrophes, this unique two-way messenger alert system is your aid within arm's reach. It's not mounted to the wall. It's not the cell phone hidden at your desk, bag, or locker. There are no emails to send, whistles to blow, red cards, or any other number of countless practices used to communicate that your students are safe.
CAREL Hub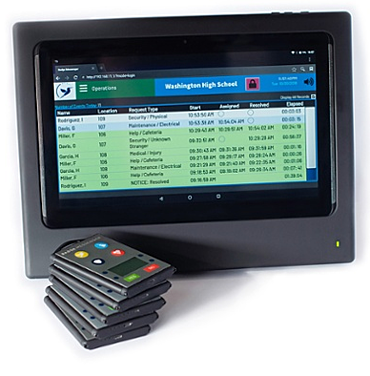 We are purpose-built hardware, dedicated for immediate response to crisis situations and the needs of staff. The Badge Messenger system consists of Messengers and the Communicate Alert Respond Evaluate Learn (CAREL) hub — a tablet-based, portable command center for operations. CAREL can store valuable data over time in the form of the number and the frequency of requests. For example, the length of time to run a fire drill or lockdown drill. It can also expose any weak points regarding way-point performance. With this data, analyses can determine the allocation/reallocation of staff and resources allowing for a safe and efficient school environment.


Efficient Communication
As communication over radio waves goes, Bluetooth is designed for short-range communication, within feet of the device. Wi-Fi is a medium range technology, effectively operating in a 30-100 foot radius. Our system uses LoRa mode C protocol — reaching hundreds of feet to miles away. LoRa operates in the 900 MHz radio wave spectrum — which is the same frequency as the old cordless telephones.
The components of the system are self-reliant and they don't require schools' infrastructural resources like Wi-Fi and firewall — making it highly resistant to cyber-intrusion. The Messenger will operate in a power outage, allowing faculty and staff to take proper safety measures in the event of a crisis. And although it's simple to use, it's by no means just a single-button device.


The Downfall of Single-Button Devices
There are other purpose-built, single-button devices out there — only for panic situations. Although the idea is there, they don't always work the way you would like. For example, a situation that requires support for staff wouldn't be able to be solved with one of these single-button devices. And the inability to avert a situation before it becomes a much larger issue can be detrimental in a school setting.
Emergencies come in many forms. The Messenger distinguishes between simple spills, student medical concerns, or school lockdowns. Schools have the ability to customize these protocols for emergencies and individual needs.
Often schools look to phone applications as an easy answer. Despite this seeming like the best option, they don't do your school justice.


4 Reasons Phone Apps Are Not the Answer for Your School
From voluntary compliance to mandated updates, utilizing phone apps are actually a hassle to teachers and other staff. Below are four reasons why using phone apps for communication purposes isn't the best method for your school.
1. The App Requires Voluntary Compliance
Phone applications are appropriate for some situations, there's no question about that. However, they don't give off the right impression to teachers and their value in the classroom. Teachers are often told to use their own personal cell phones to support their school security plan. They have 25+ students and are asked to do so many things. On top of all of this, they're pressured to supply their own property.
2. App Systems Require an Annual Subscription
Often there's an annual subscription cost with app systems. The Messenger is an inexpensive one-time purchase without the annual subscription fees associated with other options. This makes it easy for a school to supply the system to its entire staff. You buy it and you own it. Badge Messenger is designed to be affordable.
3. Apps Require a Smart Device
What if you forget your smart device on the day of an incident? Or you don't own one? The list of questions related to mandatory compliance goes on and on. These situations create large holes in your school's security plan. School systems often invest millions of dollars into their security systems — and some have an app at the core of them. What is the potential liability that goes with all of this?
4. Operating and Updating Apps Takes Time
Updating apps requires vigilance in staying up-to-date. These additional steps often take time outside of normal school hours that may have to be done by the teacher. Should they be required to carry their own "fire extinguisher" with them in-and-out of the classroom and put in more work than they already do?
Why Use Badge Messenger
Badge Messenger operates independently — not on Wi-Fi. The Messenger communication system is also self-contained. And most importantly, it's not susceptible to extraneous information like phone congestion and hacking, making it easier for your school to focus on what truly matters — the safety of you and your students.
Learn more about Badge Messenger in this video.