Hi, I'm Badge Messenger®.
I live to be of assistance, and make it easier for teachers to communicate when there's a crisis or danger. Some say I help save lives. As your badge holder, I can do much more.
Here's a Day in the Life of Me
6:45 a.m.
Miss Jackson hooks me on to her lanyard after I finish resting quietly at my charger. This is the start of my work day. Most days, I'm silently vigilant, waiting patiently to send for help. I can call the nurse, office, student assistance teams, custodians, or send an emergency notice to everyone at once. I'm looking forward to helping out today.
8:00 a.m.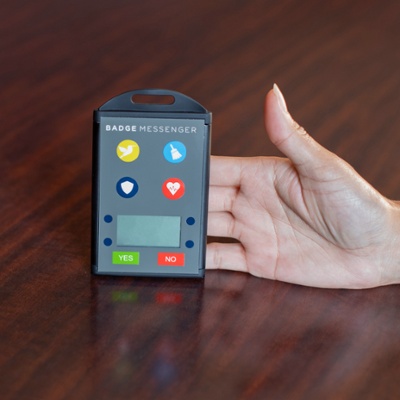 As we begin preparing for the students in Miss Jackson's second grade class to arrive, an overhead light begins blinking on and off. I can offer help! Miss Jackson pushes her maintenance button and a response from Mr. Gary shows he's on his way. The light will be taken care of before the students arrive.
I feel like a superhero! I'm the new face of school security across the U.S., and I'm hoping to truly become indispensable in as many districts as I can.
11:45 A.m.
It's lunchtime! As Miss Jackson and I walk through the main office to the lounge, we pass CAREL. Her screen shows that there have already been 16 requests fulfilled today! Talk about some superhero monitoring.
Mr. Jones from the district office is in the lounge and he notices how small I am. (I'm about the size of a credit card). It doesn't bother me; the best things come in small packages. He says he heard about me and how the pilot program works. He asks for a rundown of my capabilities and best attributes.
Miss Jackson doesn't miss a beat listing her favorite features, and immediately explains that I don't need a WiFi or cellular collection to work — ever. She describes what a lifesaver it is to leave her cellphone in her bag, tucked into a desk drawer or closet, and how she considers herself low-tech, but she says I'm easy to use! Since Miss Jackson first met me, she's felt secure knowing I'm here 24/7, and that I'll work no matter what.
Mr. Jones thinks all the teachers should use me. Naturally, I think this is a great idea.
12:30 P.m.
The day has been going very well. Then, a fight breaks out at recess, and it looks like it's going to turn nasty. It seems like William is agitated and targeting other kids unfairly.
Before anything serious happens, Miss Jackson presses one of my buttons and asks the assistant principal to come and break up the fight and address the inappropriate behavior. Luckily, there are no injuries and the incident is minor. William spends some time calming down in the main office before returning to the classroom. I can tell Miss Jackson feels safer with me here to help.
Ta-da, support for teachers and students — now that's a superhero power!
2:00 p.m.
"Fire Drill!" I shout, with my buzzer and light. Now, I hear the school alarm. Miss Jackson pushes a button to confirm it's safe to take the children into the hall and follow the school's protocol for the drill. When we stop outside, she lets the office know she has all of her children in position. Not long after the drill, I buzz again to tell Miss Jackson that she can get back to work. Total drill time: 12 minutes. That's better than last year. Without my help, students and teachers waited over 20 minutes for someone to wave them in.
Less time outside means more time to learn! Now, Miss Jackson doesn't have to rework her lesson plan.
2:30 p.m.
It's time for art class, and there's been a spill. Janie's got paint all over the floor, and it's created quite a beautiful mess, but a mess nonetheless. Thankfully, I'm here.
Miss Jackson uses me to call Steve, a school custodian, for backup. It only takes a couple of minutes for him to arrive. Miss Jackson manages to keep the rest of the students from using the spill as further inspiration to get messy until it can be wiped clean. What would Miss Jackson do without me? She's not sure she even remembers a school day without my calm, steady presence.
3:15 p.m.
The final bell rings, signaling another day's end. And what a day it's been! Miss Jackson unclips me from her lanyard and plugs me into the charger. This is my home for the night — a place where I can get some rest. Tomorrow, I'll help her again, just like I always do. It's my sole responsibility and a job I take great pride in.
Badge School Alert System
The Badge School Alert System provides teachers and their colleagues with a much-needed lifeline so they can continue to be the beacon of safety and security in their classrooms. This badge messenger optimizes communication and dispatches assistance in all kinds of emergency situations, from playground fights to natural disasters. It's no wonder, then, that more educators are incorporating this system into their school.